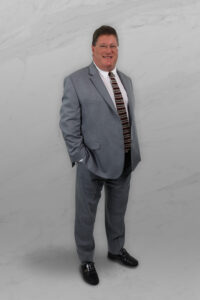 Abom & Kutulakis welcomes Attorney Todd R. Williams, Jr., to the firm. "T.R." brings close to 30 years' experience in defending, prosecuting and adjudicating criminal and civil cases in the region.
He practices criminal defense including traffic citations and protection from abuse petitions and violations, family law cases, and wills and estate administration.
T.R. is a former Chief Deputy District Attorney with Franklin County where he spent 13 years prosecuting criminal cases involving charges ranging from DUI to rape and sexual assault to homicides, as well as supervising the Franklin County Drug Task Force. Previously, he served as an assistant Franklin County public defender.
The third-generation attorney is also a former Franklin County Magisterial District Judge, a position he held for more than 13 years while presiding over criminal preliminary arraignments, preliminary hearings, summary criminal and traffic trials, civil trials, landlord tenant cases and local ordinance violation cases.
T.R. is a graduate of The Pennsylvania State University and The Dickinson School of Law.